Canada Swahili Institute > News & Events
Community selects nominees for University of Manitoba-Swahili Canada Scholarship
Following the announcement of the University of Manitoba President's award mentorship in leadership and excellence in sports (MILES), officials of the Terik community in Nandi County, Kenya,  met over the weekend (June 11th 2011) to select nominees to be forwarded to University of Manitoba. The committee was composed of all head teachers of the seven public primary schools involved in the TEPAD program, principal of Kapsengere secondary school, officials of Terik Council of Elders and community sports coordinators.
| | |
| --- | --- |
| | Officials of TEPAD  who took part in the selection of nominees for the  University of Manitoba  MILES scholarship on 11th June 2011 at apsengere primary school in Nandi County of Kenya. The selection committee was chaired  Dr. Ruth Tubey  of Moi University (front row, 4th from left) and included Mr. William Tanui, 1992 Olympic Gold Medallist (back row, 3rd from right) |
'We are working to get a successful candidate before the end  of June " said Dr. Ruth Tubey of Moi University who chaired the selection panel "Application for study visa to Canada in Nairobi takes approximately 3 months and the academic season begins the first week of September".
Canada Swahili Institute partners with University of Manitoba to provide Sports management scholarships to Kenya
The Canada Swahili Institute together with Faculty of Kinesiology and Recreation Management of University of Manitoba (UoM) have unveiled a CAD 240,000 sports scholarship for high school students from Nandi County of Kenya to access University education at UoM leading to degrees in sports management. The award termed President's Award for Mentoring Leadership Excellence through Sports (MILES) is an initiative of UoM President and Vice Chancellor, David Barnard, and arose from a Sport without Borders Program-a partnership involving researchers, practitioners and community groups in Kenya and Canada.
| | |
| --- | --- |
| | Dr. Jeniffer Mactavish of the Faculty of Kinesiology and Recreation Management of University of Manitoba gives a pep talk to primary school pupils of Terik, in Nandi County of Kenya. Dr. Mactavish is the lead coordinator of the Sports Without Borders Program |
"This is a dream come true" says Dr. Maritim E. Songok of University of Manitoba who helped bring together the partners involved in the program "Kenya has a very high athletics potential that has yet to be adequately tapped to economically benefit rural communities where poverty levels are high and majority of talented athletes hail from. One drawback is that the country lacks well trained sports managers to harness this powerhouse. This scholarship program will tremendously contribute to Kenya's quest to utilize sports as a vehicle for community development. For Canadians it will act as bridge to reach out and learn from Kenyans on how to excel in long and middle distance running".
The scholarship program to begin in the 2011/2012 academic session will run for 12 years and awardees will be nominated by Terik Essential Programs Agency For Development (TEPAD), a community based organization in Nandi County of Kenya.
Swahili Canada facilitates more graduate students from East Africa for attachments at Canadian Institutions.
The Canada Swahili Institute Inc has continued to facilitate sandwich attachments in Canadian Universities for graduate student  from East Africa. Swahili Canada links Africa students with potential faculty mentors and counterparts from Canadian Universities. The overarching goal is to develop collaborative programs between Africa students and the Canadian academic community to complement local learning experiences with international exposures. Swahili Canada beliefs that exposing upcoming Africa scientists to International mentorship during their training periods will be critical in their being recognized in anticipation of future collaborative and funding efforts. Since the year 2007 hence, Swahili Canada has facilitated graduate students from University of Nairobi (6) Jomo Kenyatta University of Agriculture and Technology (3), Makerere University (1) , Maseno University (1) and Kenyatta University (2) for attachment periods of 1-6 months at  Canadian Universities. See attached list for full details of students who have benefited from the program.
Picture 1: Hellen Butungi, centre, a Bioinformatics Graduate student from Makerere University, Uganda , with colleagues from the Bioinformatics Department of Public Health Agency of Canada (PHAC). Hellen is on a 6 month attachment to Winnipeg courtesy of Canada Swahili Institute Inc. and Public Health Agency of Canada. Picture 2: Matilda Chelimo Saina, a medical student from the University of Nairobi enjoys a swim in the Winnipeg snow. Ms Saina was on a 1 month elective course in Medicine at the University of Manitoba. Picture 3: Elizabeth Matey, a Graduate student in Biomedical Sciences from Maseno University, Kenya dorns a traditional dress during her reception ceremony. Ms Matey was on a 6 month attachment to University of Manitoba.
University of Manitoba President visits rural Kenya schools and promises scholarships to best students from the community.
The Canada Swahili Institute Inc. on Jan 27th 2010, co-organized a very successful visit to rural primary schools in Western Kenya for University of Manitoba President David Barnard. Dr. Barnard who was on a tour of Kenya to inspect University of Manitoba collaborative projects received a rousing welcome at Kapsengere Primary School in Terik location of South Nandi District from children, parents, teachers and community leaders. Terik, through their community based organization, TEPAD, has been collaborating with University of Manitoba Faculty of Kinesiology since the year 2007. Canada Swahili Institute has been playing a key role to link the community with the University of Manitoba.
Dr. Barnard was accompanied by Drs. Jennifer Mactavish and Gordon Giesbretch of Faculty of Kinesiology, Dr. Steve Moses of the Global Health Program, and Dr. James Dean and Rhonda Friesen of International Relations. During the visit children engaged the University of Manitoba professors to a thrilling barefooted soccer match. Dr. Barnard promised the community scholarships for their best students and athletes to join University of Manitoba to pursue their higher education and bring back the Canadian experience to develop their community. During the occasion, Bison Track and Field athletes through Dr. Mactavish provided a high school fee scholarship to Elijah Serem, a top track and field athlete from the community.
Picture 1: Dr. Barnard readies to start off the soccer match. Picture 2: Drs Mactavish and Giesbretch in a barefoot tussle for the ball. Picture 3: Dr. Barnard and Moses with their Terik hosts Dr. Songok (left) and Gladys Chelagat. Picture 4: Music Time: Primary school children entertain the visitors Picture 5: A children representative expresses her gratitude to University of Manitoba Picture 6: Dr. Barnard receives a gift of a cultural traditional 3-legged stool and (Picture 7), tries it on. Picture 8: Adorned. Dr. Mactavish is adorned with a traditional necklace by the headteacher of Kapsengere Primary School, Mrs. Diana Amisi Picture 9: Elijah Serem, the high school athlete from Terik receives a sports kits and a cheque donation of $500 from Dr. Mactavish on behalf of the Bison Track and Field Team. Looking on (in red t-shirt) is the Chairman of Terik Community Program Mr. Mark Ragor.
2008 Summer/fall Swahili course on Track.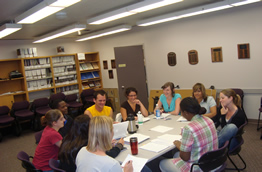 A basic Swahili class in session at the Faculty of Medicine, University of Manitoba (right). Elizabeth Martim (centre) a volunteer teacher for Canada Swahili Institute conducts a roundtable Swahili session with graduate students and postdoctoral fellows at the Department of Medical Microbiology and Infectious Diseases, Bannatyne Campus. The students are part of a team that are carrying out cutting edge research in quest for a HIV/AIDS vaccine. Their work involves frequent travels to Africa . To reduce barriers in their communication with their research volunteers, colleagues and the general population in East Africa, Canada Swahili Institute volunteers to equip Canadian students and with basic Swahili language. The university of Manitoba swahili course has been on since year 2006 and is done twice a year- Spring and summer/fall.
Canada Swahili Institute Inc. to partner with Faculty of Kinesiology and Recreation Management of University of Manitoba to enhance capacity building in sports management in Africa.
The Canada Swahili Institute Inc will partner with Faculty of Kinesiology, University of Manitoba to explore the feasibility of building linkages with sports institutions and communities in Kenya. The objective of the program is to advance the sport for international development theme through participation of academic and related institutions in Africa. The vision is to launch long term partnerships that will facilitate cutting edge advances and opportunities in three core areas, teaching/education, research, and service. Prof. Jeniffer Mactavish, a reknowned sports scientist at University of Manitoba will lead the initiative.
Preregistration for Swahili Course
The 2008-2009 Manitoba Basic Swahili Course will be held from Sept 26 2008 to October 31st 2008 (1st Semester) and April 10th to May 15th 2009 (2nd Semester). The course is a once a week lesson of 90 minutes each and suitable for beginners in Swahili language. For registration details including time, venue and course content send a pre registration request by email to swahilicanada@mts.net .